GO BIG or GO HOME!
One who has followed Gianni Versace's career knows the success of his fashion house was built on the marriage of impeccable Italian styling with bold, ornamental prints and embellishments. It can be argued that Versace designs often border on the kitsch, but their success lies in the fact that they always manage to just pull it back! Versace Blonde follows suit – she's brash, beautiful and "all eyes on me!"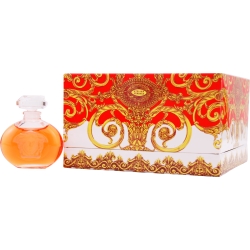 Blonde is a feisty feminine floral released in 1995 to honor Gianni's sister – the perma-tanned, platinum-haired Donatella. A seductive floral of titanic proportions, Blonde is teeming with opulent white blossoms heavily featuring gardenia and neroli. Complexity is added with spicy tuberose, ylang ylang and carnation, and a delicate facet of daffodil and violets. An ode to femininity in its most dominant form, Blondeis incredibly tenacious and will last the best part of an entire day. It is presented in a beautiful glass balloon molded with the iconic Versace Medusa head, with bejeweled cap.
Blonde is the ideal scent if you like to leave a perfumed trail in your wake. When you wear Blonde, men know you mean business!