There's no denying that once we try out a new brand or product, we are happy to recommend or thrash it. It just so happens that Fresh skincare is one that thrives in our offices and we absolutely love the products and their variety!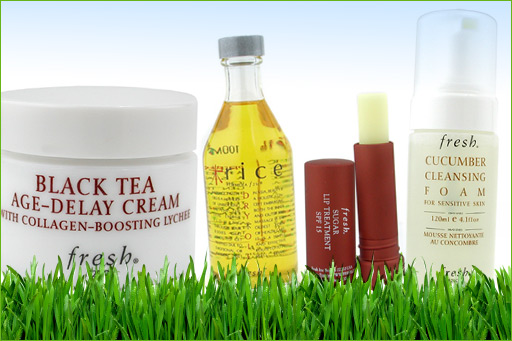 Like a kid in the candy store, FRESH gives us a ton of skincare product to choose from. Luckily, we get to brag about 4 of their top picks, black tea age delay cream, rice dry oil, sugar lip treatment, and cucumber cleansing foam--all made from ALL natural ingredients.
Why we love it so much?
1. It's all natural ingredients!
2. Have YOU ever heard of rice oil?
3. How amazing delicious does sugar lip treatment and cucumber cleansing foam sound?
The black tea age delay cream is said to boost collagen with it's lychee seed extract and the black tea ferment is a super-advanced antioxidant that helps defend against wrinkle causing things.
Wondering what rice dry oil is? It's basically a mix of rice bran oil and jojoba oil and it restores and nourishes the entire body. It's easy to put on and it's not greasy at all!
Sugar, sugar. This sugar lip treatment is a truly moisturizing, smoothing lip treatment that creates supple, soft, youthful lips...need we say more?
Cucumber cleansing foam is perfect for sensitive skin. This facial cleanser is soothing and hydrates the face with cucumber juice and green tea, and did we mention it smells amazing? It does!
If you haven't already, try an all natural ingredient skincare item! Not sure which to go for, wake up and try some FRESH.