Emperor of daring couture and inter-planetary perfumes, Thierry Mugler shot to stardom in 1992 with the launch of his first fragrance, Angel; a scent that took the world by storm and rivaled the likes of Chanel No. 5 in terms of global sales and appreciation. In 2005, Mugler looked to the celestial heavens for inspiration once more and plucked Alien from the ether... a luminous feminine fragrance which is revered for its otherworldly beauty.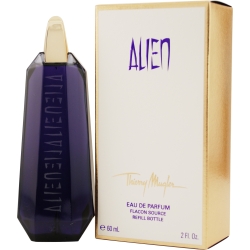 Alien – as the name suggests - is a scent evocative of intergalactic gardens and twinkling starscapes. Focusing on the main accord of jasmine, Mugler created a shining, multi-faceted scent with incredible persistence and titanic sillage... a radiant spiraling nebula of colour and light. Orange blossom, precious woods and amber lend a solar warmth to the composition, but Alien also remains somewhat cold... a cryogenically-frozen profusion of flowers grown in refrigerated air.
The ultra-modern faceted violet flacon looks like a shard of spaceglass that fell to earth from the heavens. A resolutely feminine perfume, if it is luminosity and uniqueness you yearn for, then Alien is a must-try.