We're pleasantly pleased with peachy scents, fragrant products, and a beauty product or two lately. Sure, we've been loving the pastel hues and the usual neons and brights for spring and summer, but what ever happened to the in between, peach hue? We're bringing it back and know you'll be peachy keen on these lovely products once you finish this post through.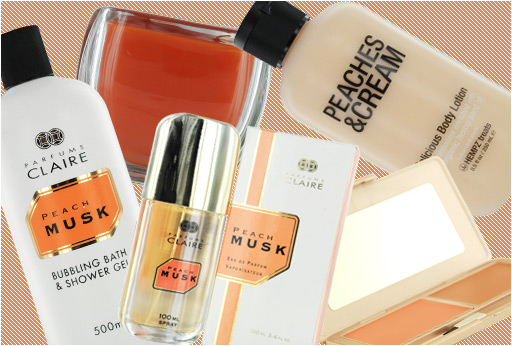 First let's talk about this amazingly scented Peach Papaya scented candle. Do we need to say anymore? NO need…but oh-my-god…amazing!
Pixi's cheek crème blush duo compact in natural peach is perfect for year round for a natural peachy, clean look. Depending on your skin color, there are two different peachy hues, perfect for that pale winter skin during the cold season and during the hot summer days, a brighter, more bronz-y glow hue.
Ever hear of the saying, you smell so good, I can just eat you up?! Well you'll be hearing a lot of that once you use Parfums Claire Peach Musk bubbling bath and shower gel. Lather this yummy gel onto your skin for a peachy, clean smell.
Smelling good all day long is all about layering, layering is key. That's why you should apply some Parfums Claire Peach Musk eau de parfum spray after your shower, that you just quenched your thirsty skin with Parfums Claire Peach Musk bubbling bath and shower gel.
Save the dessert for last, try some delicious body lotion, Peaches & Cream by Hempz for a deep down, delicious conditioning treatment and a lovely lotion scent.