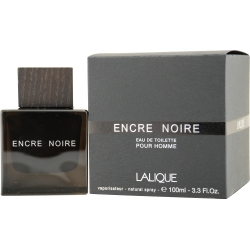 Lalique have made themselves a household name, and have placed a bookmark between the pages of history with their magnificent sculptural glass. In the late 1800s to the mid 1900's, they set the benchmark in creating exquisite and highly coveted perfume bottles. Its a little surprising then, that it was only in the early 90's that they began producing their own fragrances. Encre Noire is a scent for men, launched in 2006, that has remained at the pinnacle of their collection.
Encre Noire
(or "Black Ink") is an aromatic woody fragrance with a distinct masculine presence. It is packaged in a heavy black glass flacon with wooden cap, perhaps inspired by an antique ink well. It opens with a sappy green burst of cypress which lends a pine-like mediterranean greenness. The heart is composed of earthy, rooty vetiver... more green... but with the odour of damp soil attached. A dark woody base of cedar, amber and musk give the impression of a moisture-laiden forest floor.
Encre Noire
is indeed an ebony-coloured olfactory experience, and one that many men of any age would relish.
This scent is perfect for office wear, or for evening excursions. Sophisticated, refined and classy, Encre Noire has it in spades.