Real slick, beauty editors and Little Monster fans all over the world, Lady GaGa's first ever pefume, FAME, was leaked on Twitter and went pretty viral all over the internet. This 'black fluid' was said to smell like a cheap hooker, but on the back of the box, it says it smells like: tears of Belladonna, crushed heart of tiger orchidea with a black veil of incense, pulverized apricot, and the combinative essences of saffron and honey drops.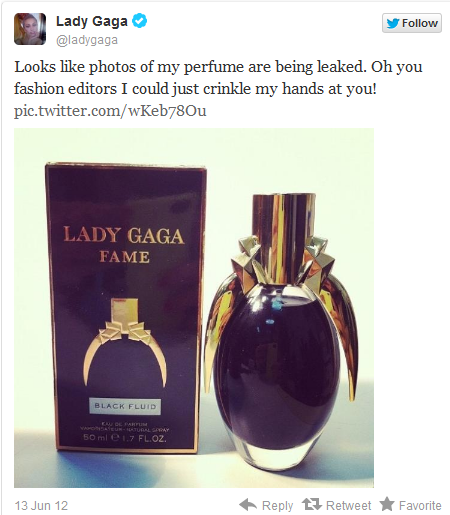 The perfume is from the Haus Laboratories in Paris and is "First of it's Kind, this perfume is an innovation in fluid technology. It's black like the soul of fame, but invisible once airborne".
Deep, dark, and compounded by Lady GaGa and a bit reminiscent of Angel by Thierry Mugler, no?