Have your wine...and wear it too! Kelly & Jones, an American niche perfume brand, has created a delicious medley of scents inspired by wine. We'd never thought we'd say this, but wine and perfume meet in their new Notes of Wine Collection, featuring 5 wine-y fragrances, #1 Notes of Sauvignon Blanc, #2 Notes of Riesling, #3 Notes of Cabernet, #4 Notes of Merlot and #5 Notes of Chardonnay.
You may ponder, how exactly did creator Kelly Jones become inspired? After attending a wine tasting, she noticed how her vanilla perfume intermingled with the notes of the wine she savored, and she knew she had to head back to her fragrance studio to start mixing up the scents, playing off undertones of each wine. So what do the scents smell like?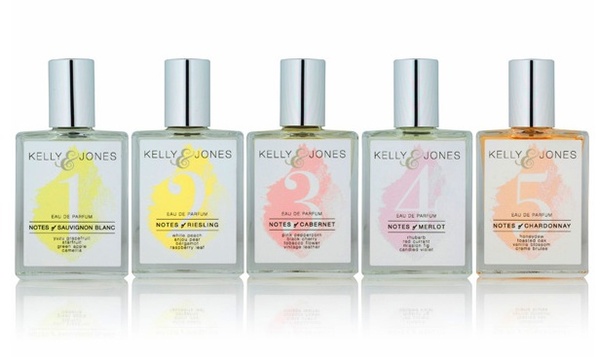 #1 Notes de Sauvignon Blancis "A crisp, refreshing unisex blend of yuzu grapefruit, starfruit, green apple and a hint of camellia flower."
#2 Notes de Riesling is about "Aromas of fresh-picked white peach, anjou pear, bergamot and raspberry leaf."
#3 Notes of Cabernet: "This swoon-worthy blend has spicy notes of pink peppercorn, ripe black cherry, and tobacco flower on a gorgeous base of vintage leather."
#4 Notes of Merlot is described as "A smooth, balanced essence and beautiful blend of red currant, mission fig, rhubarb and lovely candied violet."
#5 Notes of Chardonnay , the original source of inspiration for the whole line, is "A rich, vibrant and seductive blend of sweet honeydew melon, vanilla blossom and luscious crème brulee all rounded out on a base of toasted oak."
Would you try some wine perfume?