March 2013 saw the launch of the newest Gaultier masculine: Le Beau Male. The flacon shaped like the male torso has become instantly recognizable the world over, and this time, it comes in clear frosted glass with teal stripes. Not only has inspiration been taken for the bottle from the original "Le Male" flacon, but also from the scent... perfumer Francis Kurkdjian has created a fragrance that tips its hat to the original, but introduces some interesting new ingredients.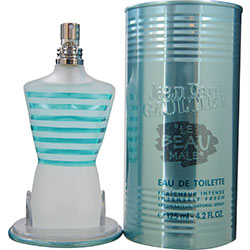 Kurkdjian wanted to produce a scent that focused on different aspects of the original. There is a shift in olfactory temperature as he unifies cool mint, lavender and absynthe with rousing neroli, sage and musk. Le Beau Male feels more transparent – less focus on the heavy vanilla present in it's older sibling, and more emphasis on the stirring aromatic accords. Whilst the original Le Male DNA is present, Le Beau Male does take a different trajectory.
This scent will appeal to young men as a sport-style scent. It is perhaps best suited to warm weather or after-gym use.