Issey Miyake is now a name synonymous with style, elegance and refinement. Miyake's fashion and mastery of pleating fabric has won him global acclaim... as have a handful of his scents. L'Eau d'Issey for Him and for Her remain to this day amongst the best-sellers of our time. In 2009 he launched a crisp, herbaceous green fragrance, simply titled A Scent, and in 2010, followed it up with a beautiful floral version; A Scent Eau de Parfum Florale.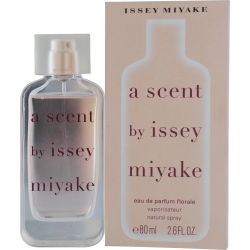 Whilst its predecessor focused chiefly on crisp greens, citruses and a floral heart of hyacinth and jasmine, the 2010 addition to the line worked with the original, but embellished the formula with beautiful blossoms of blushing peony, galbanum and ylang-ylang. The juice is now a pretty flushed pink hue, and the fragrance itself is very much the younger sibling of the original. It's soft floral notes round out some of the sharpness present in the first. A Scent Florale offers a slightly different facet for the wearer which feels infinitely more tender and endearing.
This perfume is perhaps best suited to springtime, as it embodies the prettiness and blossoming exhuberance of the season.