Presented in a glass flacon of deep oceanic blue, Issey Miyake's masculine launch of 2004 L'eau Bleue d'Issey Pour Homme is a woody aromatic scent that is an olfactory snapshot of the mediterranean.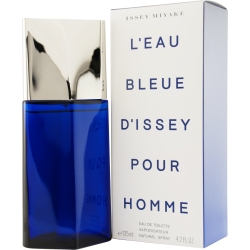 An abundant cornucopia of aromatics, herbs, woods and spices, this fragrance defies the "clean marine" qualities he captured in his 1994 woody aquatic offering L'eau d'Issey, and reminds us of the more robust, complex masculines on the market. It opens with bracing lime, orange, mandarin and orangewood which lead into an oily / sappy landscape of rosemary, juniper and cypress. This coniferous heart is rendered even greener with the addition of ginger. One feels a sense of mountainous green hills with broad, sweeping vistas over the blue Agean. A base of cedar, patchouli, sandalwood and oakmoss proffer an earthy quality that is as dense and fragrant as a forest floor littered with leaves. It is perhaps less 'abstract' than some of Miyake's other creations... it feels somewhat literal and exact.
L'eau Bleue d'Issey is a masculine for men who favour fragrances that are earthy and primal. It has above-average persistence and sillage. It is an often-overlooked gem from the Issey Miyake range.