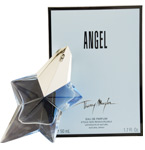 Thierry Mugler's Angel
descended onto the world's stage in 1992 as the perfume that popularized the
gourmand
genre, which bought delicious food-like qualities to fragrance. To this day, Angel is a lip-smacking yet sophisticated blend of dewy berries, creamy vanilla, warm honey, dark chocolate and golden caramel which evoke happy recollections of youthful days spent at candy stores and fairgrounds.
Rather cleverly though, Angel manages to strike a fine balance between saccharine delights and bewitching elegance with airy topnotes of bergamot and jasmine that sparkle over a dense, earthy base of bittersweet patchouli. The result is a sumptuous scent which is voluptuous, mature and very, very addictive!
Angel is a perfume that requires application with a measured hand. To truly experience her otherworldly appeal, the timeless recommendation of "spraying a fine mist into the air and walking through it" applies here. This disperses the fragrance molecules evenly, and is preferred over creating concentrated perfume pockets across your body. Angel is every bit as radiant as the solitary morning star shining in the sky... she is timeless, enchanting, and infinitely one-of-a-kind.
Angel is recommended (but not limited to) evening wear, where the night is brimming with promise.