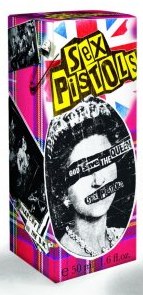 The Sex Pistols
have moshed their way into the celebrity fragrance industry with a signature unisex fragrance created by Paris-based perfumer
Etat Libre d'Orange
. And, no, you're not being punked!
The scent, with a "God Save the Queen" image on the bottle (reminiscent of the band's 1977 hit of the same name), was launched in France in July.
The scent is described as "The Spirit of Punk" in a bottle. Notes include lemon and black pepper. It will be available in the U.S. Friday at
Henri Bendel in New York
.
"To wear this scent, you must resist tradition, fight conformity, and disregard aromatic conventions. In the spirit of punk, you must be willing to express yourself with abandon. You take risks and you wouldn't be adverse to creating a little mayhem."