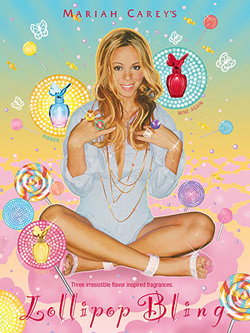 Pop star
Mariah Carey's
soon-to-be-released sweet fragrance,
Lollipop Bling
,
was inspired by her husband Nick Cannon.
Carey recently told reporters, "The inspiration for Lollipop Bling was Nick's marriage proposal to me. He first surprised me with a ring-pop – romantic, fun and young-at-heart – like me!"
Look for Carey's newest fragrance sometime in July; it's being released through
Elizabeth Arden
.