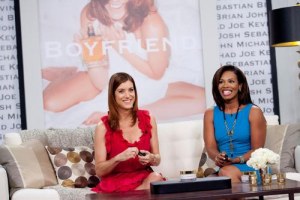 Actress
Kate Walsh
, of "Private Practice," recently teamed up with
HSN
to launch her new fragrance, Boyfriend. Walsh appeared on the shopping network to tout the Boyfriend line, which includes eau de parfum, pulse point oil and votive candles. The fragrance line sold out in one day, far exceeding sales expectations.
Boyfriend perfume was inspired by the scent of an old boyfriend's shirt, according to Walsh. "A warm, nuzzly scent, this fragrance embraces you like a big hug. I really wanted women to have that delicious feeling of romance whether 'he's' in the picture or not," says Walsh.
The launch day sales of Boyfriend, further reinforces the success that HSN has achieved with celebrity fragrances. In August, singer
Mary J. Blige sold 50,000 bottles of her fragrance
, My Life, in one day on HSN.
Photo courtesy of PR Newswire