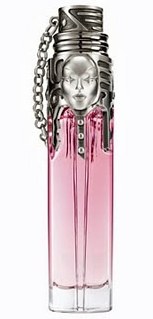 Chandler Burr
, the master of scent for the
New York Times
, recently published a
list of this season's scents that surprise
. Who made the list?
Highlights from the list include:
Womanity, by Thierry Mugler
: "Like Angel, Womanity surprises no one in its defiance." We like Womanity, too, for its sweet and salty feistiness.
Bliss, by Bliss
: "An olfactory translation of the spa experience." Notes of pomengranate and lemon couldn't be more blissful.
Infusion d'Iris, by Prada
: "Whereas Chanel No. 19 maximizes the deep, voluminous luxury of iris root, Infusion presents it in minimalist form." Infusion veers off the beaten scent path and is reminiscent of a summer day in Italy.
Beauty, by Calvin Klein
: "Beauty is Calvin's velvet revolution, a feminine feminine." Calla Lily is Beauty's highlight note, meant to capture the essence of a woman's beauty, inside and out.