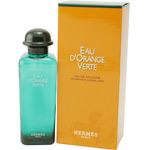 If you love your citrus scents to rouse and stimulate your senses, then you won't find better than
Eau d'Orange Verte
. This house of Hermés classic has withstood the test of time - first created in 1979, and still going strong today.
Named "Water of Green Oranges," Eau d'Orange Verte is a bracing, zesty blend of sparkling lemon and juicy mandarin -- one that literally bursts forth from the bottle! There is a lovely undercurrent of herbaceous green and delicate florals that allow this unisex fragrance to blossom on the skin. It is deep green in nature and boasts earthy base notes of fragrant woods and patchouli.
But its vivid and dynamic citrus heart is what we celebrate here: It inspires visions of warm Mediterranean summers with the sun blazing overhead. One can imagine diving into a bottomless emerald green lake surrounded by dense orange trees that are all releasing their energizing perfume onto the air.
Eau d'Orange Verte is intended to be applied generously, so I strongly recommend the 6.7oz spray bottle which will allow you to spritz with mad abandon. Part of Eau d'Orange Verte's success lies with its old timeless, elegant charm. It is a scent that is both remarkably simple, and yet surprisingly profound.