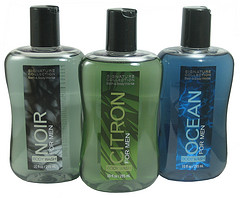 Most men don't want to worry about what's in name; just give it to them straight. That's what
Bath & Body Works
is doing with its new line of men's fragrances.
They may not be the most originally named, but Citron, Ocean, Oak and Noir are definitely straightforward.
Citron, with notes of fresh sage and lemon, is for the happy-go-lucky sort of bloke. Warm and woody Oak is, well, for the outdoorsy guy. Ocean is fresh and clean with notes of cypress and vetiver. Noir, with its contrasting notes of black cardamom and white musk, is bold and edgy.
There's something to be said about logic.