The second 'destination' in Hermes' growing narrative of perfumed "Jardins" (gardens), Un Jardin sur le Nil transports us to the gardens at Assouan on the banks of the Nile river. Created by master perfumer Jean Claude Ellena, this scent is a floral fragrance with fruity undertones for both men and women to experience.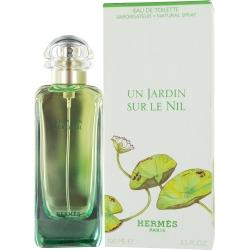 Un Jardin Sur le Nil surprises with its dewy, wet opening of grapefruit, lotus and green mango... supporting floral notes of tender peony and blushing hyacinth add a sense of dimension and vastness to this perfume. It feels vegetal, sunny and green. Basenotes of sycamore and frankincense provide the earthy foundation upon which this garden has flourished.
This Hermes creation remains a favourite amongst many as it shares shimmering aquatic qualities and evergreen summer fruits and flowers. It is a great scent for daytime, and enjoyed all year round, but particularly in summer. Marvelous.