46 years after the launch of Hermes' iconic feminine fragrance Caleche, in-house nose Jean-Claude Ellena revisited the Caleche theme in 2007 with the creation of Kelly Caleche... a scent responsible for turning a whole new generation of perfumistas back to this enduring and iconic French brand.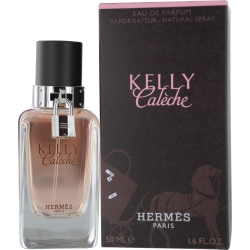 Kelly Caleche is a vivacious and delicate scent, handled with all the panache and expertise expected of Ellena and Hermes. A floral / woody / musky perfume, Kelly Caleche is Ellena's interpretation of a visit to an Hermes leather warehouse... it embodies the smell of the finest leather, blanketed with an abundance of petals.
It opens with pretty blossoms of muguet and narcissus and a twist of grapefruit which lends a brightness to the topnotes. A bushel of husky iris, mimosa, tuberose and rose caress one of the most beautiful leather accords I've smelled... the texture is like that of napped suede, and this aroma lingers long into the trail. Kelly Caleche feels enchanting and sensual.
A definite must for women who long for understated elegance that is completely devoid of fussiness and pretentiousness.