A luminous, sensual floral, Jour d'Hermes is the latest feminine fragrance release from the revered Hermes perfume stable. A profusion of flowers, this scent is a narcotizing rhapsody of resolute femininity.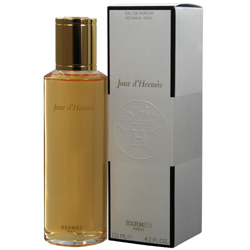 Master perfumer and in-house nose Jean-Claude Ellena created this perfume that embodies the dawn of a new day – when first light breaks, and a million flowers release their rousing perfume onto the air. Ellena wanted to bring the wearer "armfuls" of flowers... boundless beautiful blossoms in all their colors and forms... hence there not being any "official" perfume pyramid to accompany the launch. He intended for the wearer to identify the flowers she (or he) loves to smell the most. Jour d'Hermes opens with a crisp floral sweetness... citruses and greens, which are briskly followed by warmer summery blossoms (my nose thinks jasmine, rose, ylan-ylang?).
There is a beautiful transparency present – the vibrant floral facets wear like a striking multi-coloured Hermes carré. As the scent evolves, a unique musky, slightly bitter facet reveals itself, which works to diminish the saccharine nature of the florals.
Jour d'Hermes feels like sunshine and dew in a bottle. It is a sensual scent that has remarkably good longevity. One for those who appreciate relaxed, unpretentious elegance. Beautiful.