When launched in the mid 80's Bel Ami was considered the "grand seducer.".. a scent that felt confident and self-assured, and one that left women swooning in its wake. Classified as a Woody Chypre for men, this scent was created by perfumer Jean-Louis Sieuzac in an era of gratuitous excess... it embodies all the brawn and overt masculine energy common to many mens perfumes released in the 80s, but with the expected Hermes DNA of luxury and finesse.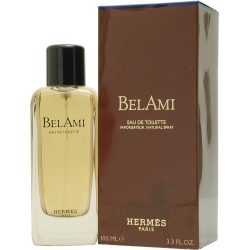 Straight out of the bottle Bel Ami bowls you over with an infusion of woods and citrus: lemon and mandarin, which are rendered toasty and warm by a punch of fragrant cedar. Herbaceous sage and peppery carnation add depth and intricacy, and a thick ribbon of vanilla and patchouli, a rich earthiness. Mosses and resins flesh out the basenotes and the sum of all these individual facets feels spicy, leathery and sexy. It is a fragrance which is bold, commanding and unrepentant.
Bel Ami feels suave, masculine and unapologetic. Revived in the 2000's and revered as one of Hermes' best masculines to date, I expect Bel Ami will charm and seduce for many years yet.