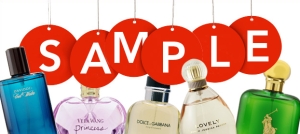 How many times have you visited your local perfume counter to discover a new scent that you'd like to try on skin, but you already left the house that day wearing one?
One would think that asking for a sample in such situations would not require a detailed character reference nor a polygraph test, yet nine times out of 10 you wind up being refused by a stuffy sales associate.
Well don't get mad, get informed!
There are a few truths that should be known regarding samples and how they are used. Take a look at our tips on how best to obtain perfume samples, and you can hopefully avoid the hostilities.
UNDERSTAND THAT SAMPLES ARE NOT FREE GIFTS
That's right! They have been manufactured for the express purpose of acting as a sales tool. Samples are usually given generously at a new fragrance launch as a recruitment tool, or, with a purchase so that the design house can establish a rapport with the customer and build a repeat-customer business.
With this in mind, is it any wonder they aren't handing samples out hand over fist? Doing so would only erode their business.
THEY KNOW
Sales associates can spot a sample-hound at 10 paces. If your fundamental purpose for visiting the store is to load up with as many trial-size perfumes as possible, they're going to see it. They've heard every story in the book, from: "Hi, I'm collecting samples for my friend who's in hospital," to "I'm getting married in June and want to buy my bridesmaids all a perfume, but I'll need to try them first." Dishonesty will get you refused almost every time.
BE GENUINE
People working the beauty counters will respond much more positively to a customer who acknowledges that samples don't grow on trees. If you are genuine, friendly and down-to-earth, they will often respond in kind. Address them by their name (it's on the name badge), and start with statements like: "Hi Kathy, you look extremely knowledgeable. Can you tell me more about this? I'm already wearing a fragrance today, but am anxious to give it a try." Test it on paper first, be engaging and open, and the associate will likely respond more obligingly.
BE PREPARED
Do a little research first. If it's a specific perfume you're after, take a moment before leaving the house to research the fragrance online. Read what is being said in reviews and look over the olfactory notes. When visiting the sales counter, you'll be surprised at how much of this information you have retained. It is likely the associate will be impressed by your knowledge as well as your eagerness to sample their product. If you feel comfortable, ask if they have a sample that you can take with you. But remember, when you've made every effort to be humble and genuine, "we don't have any" usually means "we don't have any."

D. I. Y.
Samples are made and distributed in limited supply, normally based on the national grid of the store you're visiting (ie: downtown/flagship stores in city centers will have a greater sample allocation than rural/suburban stores). If you have any small 1-2 ml empty atomizers or glass vials, take them with you. If, when asking for a sample, you are told there are none available, you can ask if the sales associate would mind spraying a few drops from the counter tester into the vial you produce from your pocket or handbag. Again, most sales associates would be willing to do this, if they feel your request is sincere.
Finally, many people have had much success writing to or e-mailing perfume houses directly with sample requests. This is also an option open to you.
Happy shopping, perfumistas!