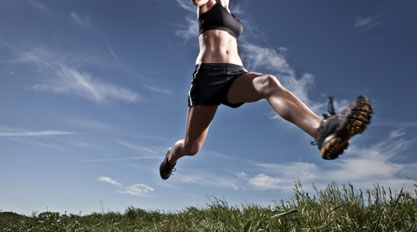 Exercising is beneficial no matter where you do it, but there are several reasons why taking your workout routine outside is a healthy alternative to the confinement of four walls.
First,
fresh air
is just plain good for you. It's invigorating and good for the lungs. Which would you prefer? Breathing in fresh outdoor air or those humid, sweat-laced fumes from the gym? Think about it. It's important to select the best time of day, temperature-wise, to exercise. Extreme cold or heat can wreak havoc on your lungs if you're not used to it - not to mention spur hypo- or hyperthermia, respectively.
Exercising outdoors is
meditative
. It gives you a chance to realign yourself with nature, focus on the world outside your cubicle. Being outside is therapeutic, whether you're running or watering the garden. It's a natural lift.
It can
keep your workouts fun
. If you enjoy your exercise regimen, you're more likely to stick with it. Exercising outside introduces adventure, whether you run trails one day and cycle the city streets the next. Keep it everchanging; this is more difficult at the gym.
The gym outside doesn't charge a monthly fee. All you need is a decent pair of athletic shoes and you're ready to hit the road.
It's free!
Working out outside means you're not competing with the other gym rats for the treadmill or bike. You've got the open roads right outside your door.
Hitting the gym with a friend always helps, but how often do you actually talk to him or her? It's likely you're both plugged into your MP3 players, or there's someone on the machine between you.
Get outside and reconnect
. Consider joining a summer or fall recreation sports team, or local bike, run or hiking clubs to mix it up and make new friends.