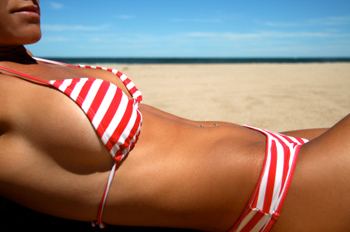 It's the season for baring skin, and darn if that dreaded razor burn doesn't rear its bumpy head! Here are some tips to help you avoid the avoid the ugly mess.

What is razor burn?
Essentially this condition stems from hairs pushing back into the follicles, which then become inflamed and develop into ingrown hairs. The ingrown hairs are the bumps you (and everyone else) see when you don your swimsuit.
How can I avoid it?
There are several key factors to keep in mind when you shave.
Use a shave gel instead of soap or cream, which can clog pores.
Try not to shave over the same area multiple times. This can just lead to irritation.
Shave in the direction of hair growth. Going against the grain can trigger the burn.
If possible, decrease the amount of times you shave. The more you shave, the more aggravated the area becomes.
Always use a clean, sharp razor.
What happens if razor burn strikes?
Don't worry, there are simple ways to help get rid of it:
Apply an aloe vera cream a few times per day to ease the burn.
Apply an astringent like witch hazel to heal the area.
Apply cold water directly to the area after shaving; this will help to close the pores immediately.