The last thing your dad needs is another tie. Or a wallet. Or his 600th pair of socks. This Father's Day why not get Dad a gift he (and everyone around him) will enjoy --
a new fragrance
(translated: not a cheap cologne).
Here are some suggestions from us at
Perfume.org!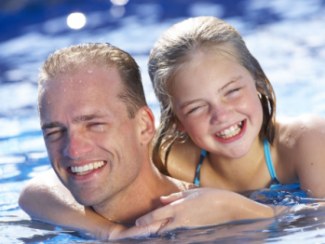 Classic Dad
Obsession
: Sure, it's been around since 1986 but it's Dad's favorite. Like an old pair of jeans, Dad loves his familiar fragrance. Calvin Klein's Obsession is all man, too, with notes of mandarin, spice, musk and sandalwood.
Polo
: If ever there was a designer who embodies the definition of "classic," it's Ralph Lauren. Polo, the original, could be the companion scent to Ralph Lauren's signature (and very masculine) restaurant in Chicago with its notes of leather, wood, tobacco and oakmoss.
Cool Water
: Davidoff's Cool Water is still one of the most popular fragrances on the market, although it was introduced in 1988. Cool Water is great for Dad because it is a true gentleman's cologne -- clean, classy and masculine.
Drakkar Noir
: Created in 1982 by Guy Laroche, Drakkar Noir is still a winner for men. Its classic, sporty aroma is defined by notes of lavendar, citrus and sandalwood. Drakkar Noir is a memorable fragrance, especially with women.
Old Spice
: OK, make all the jokes you want. But how many dads out there still slather on Old Spice? The brand has even ramped up its marketing campaign with the wildly popular "manmercials." Old Spice was introduced in 1937 and is still an old favorite; it doesn't get any more classic than that.
Modern Dad
Armani Code
: Armani Code might be the perfect fragrance for Dad if he's a hopeless romantic. It's lighter than some of the classics with top notes of apple, lavender and citrus, but it maintains its masculine appeal with a woody drydown.
D&G The One for Men
: A younger fragrance, The One was introduced by Dolce & Gabbana in 2008. A spicy and intriguing scent, The One might make moms jealous! This fragrance is highly recommended, with its notes of cardamom, coriander, grapefruit, tobacco and cedar.
Gucci Pour Homme
: Gucci Pour Homme is for Dads who appreciate elegant subtelty from a masculine scent. This fragrance is woody in nature and extremely popular with the ladies. Send Dad on the town wearing this, but make sure Mom is with him.
L'homme Yves Saint Laurent
: This classic cologne is popular for day or evening wear. L'Homme is understated yet masculine, perfect for confident Dad or Dad with quiet strength. It opens with a citrusy note and ends with a spicy wood note that reeks of refinement.
Burberry The Beat
: The Beat is for your creative, contemporary Dad, the guy with a positive outlook and unstoppable energy. It's for the Dad who is defined by individuality and sensuality. The Beat has a fresh, leather scent that's accented by a hint of black pepper.