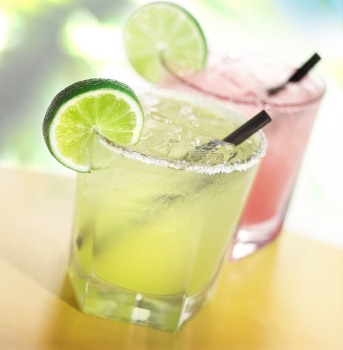 As the seasons change, so do our tastebuds for adult beverages. Margaritas become martinis, light beers turn a shade darker and white wine is swapped for red. Until those chilly fall days arrive, however, enjoy your summer drinks, healthy-style!
Bethenny's Skinnygirl Margarita
* 2 oz. of clear premium tequila (count 1, 2 while you pour, no need for measuring)
* Tiny splash of orange liquor
* Juice of 4 fresh lime wedges
Combine all ingredients over a glass of ice and garnish with a lime wedge.
Courtesy of bethennybakes.com
Cherry Smash
* 1 cup pitted fresh or frozen (thawed) cherries
* 1/4 cup fresh mint leaves, plus 4 sprigs for garnish
* 8 tsp. sugar
* 6 oz. (3/4 cup) dark rum
* 1/4 cup lime juice
* 3 cups cherry-flavored (or regular) seltzer
Divide cherries, mint leaves and sugar among 4 glasses. Muddle together with the back of a wooden spoon. Stir in rum and lime juice. Fill glasses with ice and top with seltzer. Garnish with mint sprigs
Low-cal Sangria
*½ pound fresh strawberries, sliced
*1 peach, thinly sliced
*1 orange, thinly sliced
*1 lime, thinly sliced
*2 cups red wine
*1 oz. cherry liqueur
*1 cup club soda
*Mint, for garnish
Place fruit in a large, chilled glass pitcher. Add wine and liqueur, stir lightly. Cover and refrigerate for at least 12 hours. Remove and add club soda; stir. Fill 4 glasses halfway with ice; add sangria. Garnish with lime wedge, strawberry and a mint leaf.
Blueberry Lemonade Fizz
*3 oz. of blueberry vodka
*Fresh lemonade
*Club soda or Sprite
*Mint leaves
Pour vodka over ice, fill with lemonade and add a dash of Sprite or club soda. Garnish with mint, if desired.
Low Carb Mojito
*2 Sprigs fresh mint
*3 lime wedges
*Sugar substitute
*Crushed ice
*2 oz. white rum
*6 oz. club soda
Muddle the mint sprigs and lime wedges together with a sugar substitute in the bottom of a tall glass. Once the ingredients are well mixed, fill the glass with ice. Add white rum and club soda and stir well.
Recipe courtesy of mojitos.org