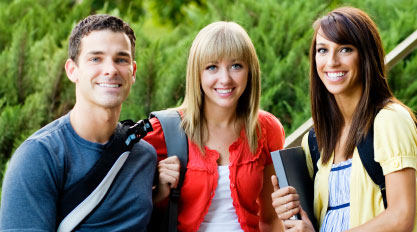 Headed back to school? Want to start fresh with a new fragrance? Here's our list of great back-to-school fall fragrances for girls and guys.
For Her
Thierry Mugler's Angel
If you don't already own a bottle of Angel (it's a popular fragrance), you need one. Angel is a refreshing woody fragrance that blends a sweet vanilla note with fall fruits.
Notes: Vanilla, sandalwood, patchouli, fresh citrus, melons, peaches, plums
Forbidden Rose by Avril Lavigne
The second in the Canadian pop star's fragrance line, Forbidden Rose is a new release that represents the maturing Avril. It's mysterious and introspective.
Notes: Red apple, white peach, bourbon pepper, lotus flower, apple blossom, heliotrope, pomegranate, vanilla, chocolate, sandalwood
Heiress by Paris Hilton
Heiress is a fruity floral with candy-sweet top notes; a little less HOT, a little more sweet.
Notes: Passion fruit, orange, peach granita, vetiver, tiare, tonka bean, mimosa, champagne, honeysuckle, jasmine, dewberry, ylang, grenadine, blonde woods, violet
Marc Jacobs Lola
A grown-up version of Daisy, Lola is for the flirty, fun, free spirit. Lola is innocently sexy with dazzling notes of pink peppercorn blended with subtle vanilla, musk and tonka bean.
Notes: Rose, pear d'anjou, pink peppercorn, geranium, creamy musk, fuchsia peony, ruby red grapefruit, vanilla, tonka bean
Vera Wang Rock Princess
Rock Princess is the older, sexier sister to Vera Wang's original Princess fragrance. It contains some of the same sweet notes as Princess, but settles on the skin a little darker than its predecessor.
Notes: Red raspberry, white peach, heliotrope, creamy coconut, jasmine, rose, musk, iris, vibrant bergamot; lily, cashmere woods
Mariah Carey Lollipop Bling
Described as "romantic, fun and young at heart," Mariah Carey's new Lollipop Bling is a sugary-sweet scent that's perfect for back to school.
Notes: Notes vary depending on fragrance choice (Honey, Mine Again, Ribbon)
For HimAbercrombie & Fitch Fierce
Guys, if you want to stand out, grab a bottle of Fierce. This head-turning cologne is great for getting the girls.
Notes: Orange, lemon, fir resin, petit grain and cardamom; middle notes are rosemary, jasmine, lily-of-the-valley and rose; base notes are musk, oakmoss, vetiver, Brazilian rosewood.
Dolce & Gabbana Pour Homme
D&G Pour Homme is for the confident guy who is comfortable with his masculinity. He's energetic, fun to be around and contagious -- like his scent.
Notes: Lemon, orange, lavender, sage, cedar, tobacco
Givenchy Pi
Givenchy Pi is full of infinite possibilities, and so is the guy who wears this popular fragrance. He's bold and adventurous, a true free spirit.
Notes: Patchouli, sandalwood

Lacoste Pour Homme
Edgy notes of cinnamon, juniper and plum make Lacoste Pour Homme the ideal fragrance for the sophisticated guy. He's most likely to succeed, but still knows how to have a good time.
Notes: Cinnamom, apple, juniper, plum, woods