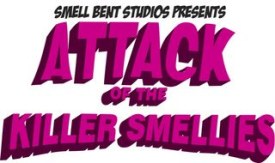 Halloween is fast-approaching and
niche perfumer Smell Bent
has released its limited edition Halloween fragrances.
This season's fragrance collection includes five new scents:
One
,
Lucy Fur
,
Helen Carnate
,
Lumberjack Werewolf
, and
Bewitched, Bothered & Bewilderness
.
The fragrances are part of a 2010 fragrance line called Attack of the Killer Smellies. Each comes with a tagline; for instance Lucy Fur's is "do you wanna play with me" with a stick figure image of a psycho little girl in pigtails holding a poisonous potion.
The quirky, niche perfume house is based in Los Angeles. Its mission is to "come up with super fun fragrances that will delight your nose and your funny bone."