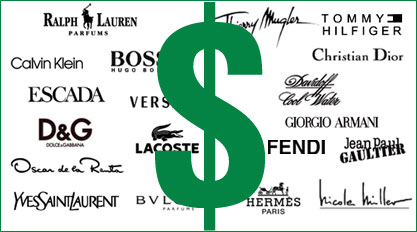 With the global economy in crisis and the resulting impact it's had on the luxury retail market, I'm sure you - much like myself - are striving to find ways to get greater bang for your buck. When funds and resources are stretched to the limit, it's paramount to get the best possible value for your money … especially now, with the holidays just a few short weeks away.

Instead of foregoing life's little luxuries altogether, you simply need to learn to shop smart and look for opportunities to capitalize on the specials offered at this time of year. Many retailers both online and offline are heavily reducing their stock and offering pre-holiday markdowns. This means one can still smell fabulous and pick up a gift or two for loved ones in the process!

As far as fragrance goes, there are three main methods to profit from your purchase:

1. SIZE DOES MATTER
Super-size your scent: Don't be fooled into thinking that a bigger bottle will set you back a bombshell; in fact quite the contrary. As the volume of the perfume or cologne increases, the cost per milliliter decreases significantly. Compare the cost, for instance, of two 50ml bottles of your favorite fragrance to that of the 100ml. If it's a scent you know you adore, then that slightly higher spend in the beginning will markedly pay for itself in the long run.

Scale down your smellies: On the other hand, using the same logic, you can save money by opting for the 1 oz. bottle over a larger size if you're still testing the waters with a new scent. In addition, you can buy a handful of perfume minis for a fraction of the cost of a full bottles; these will make great stocking-stuffers and fragrant fillers for holiday party favors.

2. CONCENTRATE
The concentration of a perfume refers to the percentage of fragrant oils suspended in the odorless carrier alcohol. Colognes, eau de colognes and aftershaves hold the lowest percentages while eau de toilettes and eau de parfums contain much higher levels of oils. A pure parfum or parfum extrait has the highest concentration of perfume possible.

At a glance, prices appear to increase steadily depending on the strength of the perfume, but the secret is that the more concentrated the scent is, the smaller quantity you need to apply. Colognes and aftershaves are designed to be applied liberally numerous times, while eau de toilettes can be topped off once or twice throughout the day. An eau de parfum or parfum extrait only ever really requires one application to last an entire evening; hence preserving your purchase for much, much longer.

3. LAY WITH ME
Layering of perfumed ancillary products from your favorite fragrance line (deodorants, body lotions, creams and shower gels) will extend the life of your fragrance. A scented body lotion can be used independently of the perfume when all you ask for is a soft skin scent, but by layering the perfume over it, the lotion acts as an anchor and the perfume will take hold much better. Ancillary products in a perfume line are often given away for free in perfume gift sets. There is no better time to purchase a gift set with several products included for no more than the retail price of the fragrance alone.

If you follow this simple wisdom, there are tons of savings to be enjoyed!