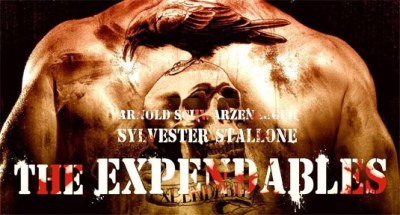 In honor of the new
Sylvester Stallone
movie,
"The Expendables,"
grab your bros and get your man on with these masculine scents.
Bruce Willis
: Action star Bruce Willis' new fragrance may be the manliest on the planet.
D&G Masculine
: It starts off flirty and fun and ends in a smooth manly vetiver and vanilla - a classic coming-of-age saga.
Stetson by Coty
: Coty's legendary men's fragrance was inspired by the pioneers of the American West. It doesn't get anymore all-American male than that.
Bvlgari Aqua by Bvlgari
: Hints of sexy amber blend with slices of mandarin to create a clean, invigorating scent.
Swiss Army by Swiss Army
: Grab your knife and head outdoors with Swiss Army cologne for men. This cologne reflects the quality, versatility and attention to detail the legendary brand is known for.
Fierce by Abercrombie & Fitch
: Looking for attention? Fierce will turn heads it's so fierce. Even the bottle is hot.
Invincible Iron Man
: Licensed by Marvel, this cologne named after the movie of the same name has superhero written all over it.
Very Irresistible Man Givenchy
: Got charisma? Confidence? The power to seduce? Step forward then and be proud of your right to wear Givenchy's Very Irresistible Man.
Old Spice
: Isaiah Mustafa. Enough said.
Axe by Unilever
: OK, so it's mostly associated with teen guys, but hey, teen guys get plenty of action.