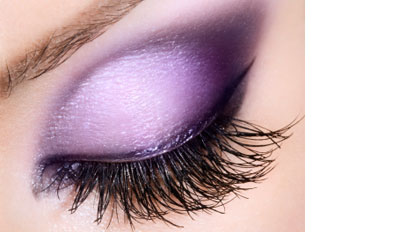 1. Smoke out.
Smokey eyes are not a new concept, but this season choose from a rich palette of violets, purples and lavenders or matte grays.
This fall cobalt blue eyeliner is a winning choice. Enhance it with metallic blue eye shadow to create a dramatic look. Make sure you apply concealer to the whole eye before adding your shadow. Finish the look with a touch of white shimmer to the top of the eye and the inner corners, followed by mascara.
2. Plum perfect.
Plump your pout with shades of plum this fall and winter season. For darker skin tones, use a blue-based plum. Go nuts with the lipstick if you have full lips, but if your lips are thinner it's best to opt for a sheer plum shade. Make sure you line your lips first, preferably with the same color lip liner or a simple nude shade. Apply the lip color using a brush.
3. Just peachy.
Heavy bronzers are not on the menu this fall. Instead, opt for classic nudes, peaches and pinks when covering your face. Use a large brush to sweep on blush so the color area isn't so concentrated on the cheeks.
4. You Don't Know Jacques.
OPI's newest nail color, You Don't Know Jacques, might be the hottest nail color on the menu this fall. A matte polish, this color is a blend of taupe and metal and is the consummate fall/winter choice for nails. Other popular nail polish colors include ... yes, plums, purples, violets and smokey metallics.