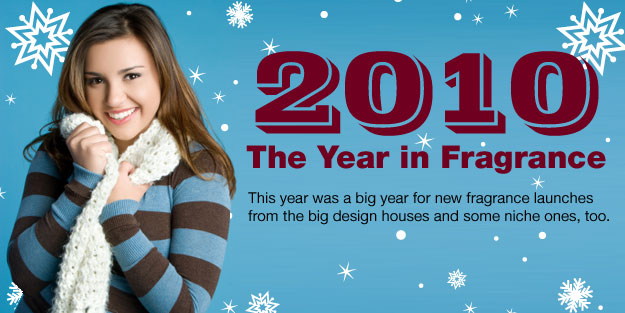 Often when I look back upon the year that was, I think of the resolutions that I've managed to uphold (and the few that I've broken), and how far I've come in the meantime. The end of the year is a good time to reflect upon the past 12 months and see how we've fared both personally and professionally.

On a personal note, I have seen my appreciation for perfume grow and grow, so to coincide with the holidays, I thought I'd write a round-up of some of the fine fragrance hits and misses over the past 52 weeks. This year was a big year for new launches from established designer houses and some niche ones too.

So let's begin… here is the perfume.org bucketlist of 2010 scents you must try before the onslaught of new perfume releases in 2011!

2010 ANNIVERSARY FRAGRANCES
Vera Wang released Anniversary, a soft floral scent for women to celebrate 20 years in the biz, while John Varvatos created his masculine 10th Anniversary fragrance, an assertive woody/spicy special edition EDT.

BEST BOTTLE DESIGN - HIS AND HERS
This accolade might just go to Thierry Mugler's Womanity perfume, a striking Alien-esque flacon of pewter-coloured metal and glass, containing a cotton-candy pink elixir based around fig, fig tree and caviar.

For the boys, Marc Jacobs Bang, launched in its punchy, crumpled mirrored bottle became an object to be desired. This contemporary EDT is a play on pepper and spices that are resolutely masculine.

QUIRKIEST BOTTLE DESIGN - HIS AND HERS
Davidoff has led the market for years with its much loved fragrance Cool Water, but the 2010 release of Champion in its dumbell-shaped bottle leaves us wondering if brawn was put before brains in the Davidoff marketing department. At least it smells good…

Meanwhile, Givenchy unleashed Play for Her in a stylish mobile-phone inspired flacon, which wouldn't look out of place in any modern girl's handbag.

MOST RELEASES BY A SINGLE PERFUME HOUSE
This year Ralph Lauren launched its Big Pony youth-oriented clothing collection and no less than four new Big Pony scents for men. Each one embracing an individual characteristic of the "Ralph Lauren Man," the gents can choose a scent to compliment his lifestyle. Is he Fresh, Sensual, Rugged or Stylish? This classy quartet brought much color to 2010!

BATTLE OF THE BIG GUNS
In the past 12 months four major designers released new perfumes which left consumers with some heavy decisions to be made. Giorgio Armani launched the stunning scent Acqua di Gioia perfume for women - a delicious summery perfume that evokes sensations of Mediterranean beaches and sipping Mai Tais. Calvin Klein's answer to that was to bring Beauty to the masses … an elegant and sophisticated musky floral that is as timeless as Calvin Klein clothing. Gucci joined the party with its perfume Guilty for women - a fruity floral that is both daring and sexy. Men can expect to see Guilty's aromatic masculine counterpart early in 2011. And speaking of the fellas, Chanel bounced back with its first new (non-flanking) men's fragrance in a number of years. Bleu de Chanel cologne is a woody aromatic scent that is also climbing the popularity ladder, and is proof positive that the major designers are still fighting for supremacy!

NOT-TO-BE-MISSED NICHE RELEASE
They might be trickier to track down, but niche scents are often adored for their uniqueness. This year Comme des Garcons continued to celebrate all things avant garde with Wonderwood, a unisex fragrance that is an overdose of woods. Pretty much every wood facet you can imagine has gone into this enchanting EDP - one that will bewitch and beguile. It is perfume.org's top niche pic for the year.

As we usher in a brand new year, we should be excited to see new offerings from Dior, Donna Karan, Joop!, Costume National, Estee Lauder, Jimmy Choo, and many, many more.