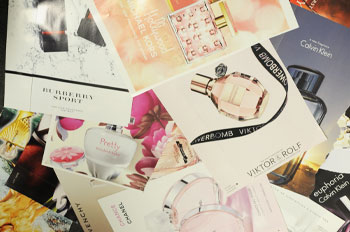 /Photo by Matthew Hulser
/
What do you do with all those
perfume samples from magazines
? Give them a quick sniff? Toss them in the trash? Collect them? Perfume samples are handier than you think. Here are 10 ways to put them to good use.
1.
Dress up your drawers
. Tuck a few of your favorites in your underwear drawers as well as your other clothes drawers.
2.
Stow them in your suitcase
. Before hitting the road, toss an unopened sample into your suitcase. The sample won't leak on your clothes and they will smell great for the duration of the trip.
3.
Store them in your shoes
(not while wearing them, of course). Your friends will think you have the best-smelling feet around. Not to mention your closet will smell much better. (See No. 6.)
4.
Stash them under your car seat
. Who needs one of those cheap, stinky air fresheners? Place a perfume sample under your seat and you're good to go.
5.
Put them in your purse
. With all the stuff we load into our purses, it's no wonder they sometimes smell a little stale. Nothing a perfume sample can't fix.
6.
Keep them in the closet
. (See No. 3.)
7.
Give gift bags a little extra something special
. Sometimes it's the little things that matter. Adding a perfume sample to a gift bag not only makes it smell great, but it also adds a personal touch.
8.
Sleep tight on scented pillows
. Toss a perfume sample into your pillowcase for some fragrant ZZZZZs.
9.
Line your coat pockets
. If you're storing your coats during the summer months, placing a perfume sample in the pocket will help to ward off that musty smell. If you're wearing your coat, even better. You'll smell great the moment you enter a room.
10.
Wear them
. This is why they are in the magazines in the first place, right? Collect the perfume samples and try out different scents over time. You can test which fragrances you like before splurging on them.