What can be said about Shalimar that hasn't already been said before? Poets have rhapsodised over her, and men around the world have succumbed to the women who wear it. She is the Grande Dame of the perfume world, created by one of the world's oldest and most revered perfume houses: Guerlain.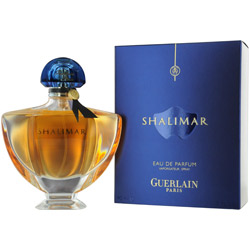 Created in 1921 (but not released until the World Fair of 1925), Shalimar is the scent that pioneered the Oriental perfume category. It remains to this day, one of the most-sold perfumes of all time… its beauty and mystery is ageless. Shalimar opens with lemon and bergamot, underpinned by rousing blooms of jasmine, iris and rose. A deeply resinous nucleus of opoponax and incense furnishes this perfume with an exotic piquancy, and lavish tendrils of leather, civet and musks, add a sense of animalic carnality. Perhaps the most prominent accord, however, is vanilla… an infinitely dark, caramel-vanilla… a facet that is utterly addictive. It wears much like a mohair blanket around the shoulders… warm, luxurious, sensual.
Shalimar is perhaps best worn in the evening… at the end of the day, when the sun has slipped beneath the horizon, and the night is filled with unspoken potential. It is a perfume that stands as a work of art, and an ode to love in all of its forms.