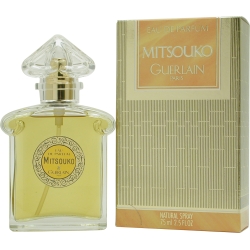 Mitsouko is the 1919 creation of Jacques Guerlain – composed at a time straddling both the Art Nouveau and Art Deco eras. This perfume was inspired by a romantic novel of the age describing the forbidden love between the wife of Japanese Admiral Togo and an officer from the British army. It has endured the decades for almost a century, and remains to this day one of the paradigms of classical perfumery.
Mitsouko is a classic chypre... it is the scent of maturity and gentility and is loved by many the world over. It's flight is one of dewy peaches, bergamot, jasmine and spices which simmer over a heart of rose, ylang ylang, cinnamon and vetiver. The trail is a lingering swathe of woods and mosses. Those who love her, say she smells like money - "old money". An olfactory hommage to an time of opulence, decadence and considered fortune. She reads like a perfumed diary from the pen of a woman in love, but whose husband is always absent. A deeply personal torment, when one has all the riches in the world.
Mitsouko has bold presence, excellent persistence, and generates impressive sillage. One of the masterpieces from the revered house of Guerlain.