It has to be a special scent that holds the all-encompassing, illustrious "Homme" title, particularly when coming from a house as revered as Guerlain. Fortunately, Guerlain's archetypal masculine doesn't disappoint.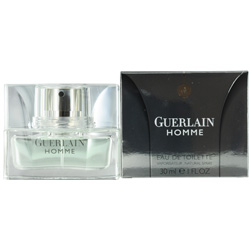 Guerlain Homme was one of the first fragrances created for the house by new in-house nose Thierry Wasser. Launched in 2008, this fragrance is a woody aromatic eau de toilette that marks a new age in the house's vast timeline.
Homme is a modern scent that pays little hommage to the Guerlain masculines of decades past... it opens with a sharp bergamot / lime accord, crisp mint, and it's now-famous "mojito accord". It speaks of refreshing vitality, however a warmer , earthier heart of geranium, vetiver, cedar and rum furnish the fragrance with depth and uniqueness. This scent feels best suited to a man who is very social and extroverted... it begs to be worn during the day by busy professionals, or in the evening to parties and fun gathering with friends. Perhaps a million miles removed from Guerlain's other signature masculines such as Habit Rouge and L'Instant Pour Homme, Guerlain Homme is a snapshot of a modern man standing right in the here and now.