Guerlain's Heritage is like taking an stroll through a sunlit wilderness whilst there's a chill hanging in the air. Crisp copper-coloured leaves crunch underfoot as your breath billows out in frosty plumes. This Jean Paul Guerlain masculine of 1992 is a crisp, woody, spicy fragrance which is warm and self-assured. It has a sophisticated, almost aristocratic feel; epitomising a man who is cognisant of the modern age, but one who also holds traditional values in high regard.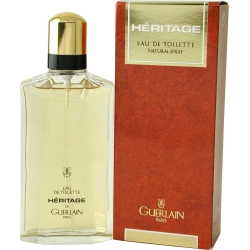 Heritage opens with shimmering bergamot and crisp, leafy green notes. There is a time-honoured blend of lavender, lemon and nutmeg lying just beneath the surface, and it is played off against velvety sage and soft violets. A sophisticated heart of pepper, coriander, carnation and geranium beat over a lavish foundation of cedar, vetiver, patchouli, sandalwood and oakmoss. It is a fragrance of contrasts, flitting between ruggedness and tenderness, power and serenity.
Perfect for the office or for romance, Heritage is the scent of a meticulously groomed man.
A genuine expression of male elegance.