Released in 2002 under the keen direction of Tom Ford, Gucci Eau de Parfum for women marked an interesting turn in the feminines present in the Gucci perfume portfolio. It was classed as an Oriental Spicy perfume... something that was lacking from the famous fashion House until then.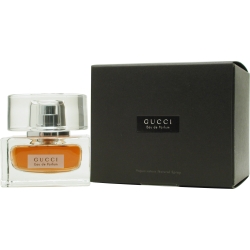 Gucci eau de parfum is presented in a gloriously heavy flacon that resembles a turn-of-the-century glass inkwell. Its deep brown juice hints at a panoply of dark and exotic accords, and it does not disappoint! This beautiful perfume opens with dense spices and dry woods that prickle in the nose... a rousing blend of caraway, leather, sandalwood and incense which evoke sensations of the soukhs and spice markets of the Near East. A delicate ribbon of vanilla, heliotrope, orange blossom and iris is woven into the tapestry of this fragrance, and lends a glamourous facet to the composition. A lingering trail of musks and dry woods linger for many hours.
Although revered as somewhat of a triumph in the eyes of hardcore perfumistas, Gucci eau de parfum was discontinued a number of years ago. If unconventional, exquisitely-constructed fragrances appeal to you, then get it while you can.