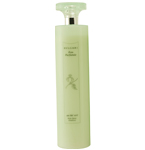 The design house of Bulgari (technically Bvlgari) is based in Rome and has been known since 1884 for its line of fine jewelry. However, today Bulgari is known not only for exquisite jewels but also for its line of other fine luxury items including leather goods, skincare, hotels and fine fragrance.

au The Vert is Bulgari's very first eau de cologne. This fragrance was created by Jean-Claude Ellena and was introduced in 1992. au The Vert is Italian for "green tea," and the classic cut glass look of the pale green bottle is the perfect setting for this perfume.

It came as no surprise to see this bottle nestled inside a pale green box reminiscent of a soft water color painting of fresh green grass in the spring. This eau de cologne is sold as suitable for either men or women.

au The Vert is a delicate blending of aromas with top notes of orange blossom and Italian bergamot. au The Vert is in the citrus aromatic floral family with base notes of pepper and green tea and a heart of Bulgarian rose and jasmine. The combination gives this perfume a very crisp, clean scent with just the smallest hint of jasmine. The orange blossom, water and pepper notes merge to create a fresh feel.

au The Vert is perfect for a casual afternoon. Its crisp aroma is refreshing and invigorating. Its sexiness is subtle; a light, delicate fragrance that won't overpower during a close daytime setting. It doesn't have fantastic staying power but it still manages to last a good four hours without having to reapply it. You may want to refresh the scent throughout the day for a more noticeable wake.

While au The Vert is sold as a unisex fragrance, I disagree completely. I find this fragrance to be fresh and clean but definitely more on the feminine side than any man I know would be comfortable wearing. While it's not overtly feminine with a cloying, sweet scent to it, the delicate notes of jasmine to me are more suited to a woman than to a man.