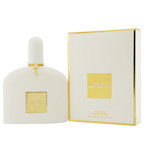 Patchouli oil was worn to excess in the 1970s, in an age where free love and psychedelic "counterculturalism" was the norm. Now some 30 years later, Tom Ford has borrowed from this revolutionary time, and reworked patchouli into something very different.

Just as the hippies were known to explore different states of consciousness, White Patchouli can also be viewed with a sense of "altered reality"... a modern-day patchouli done through a swirling smokescreen of soft flowers and blonde woods.

White Patchouli opens with a zesty note of bergamot which sparkles over a delicate heart of jasmine rose and peony. This floral nucleus transitions into something slightly "dirtier" as the featured patchouli accord steps forward. Here it seduces and beckons with its sensually fragrant forefinger! Some time on as the perfume continues to develop, a soft veil of incense and birchwood shifts through it, which adds infinite depth and character.

As with many of Tom Ford's perfume projects, White Patchouli is full of contradictions and surprises; it manages to pay homage to the '70s, while at the same time is strikingly contemporary. The earthy quality of this perfume renders this a must-try for both ladies and gents.