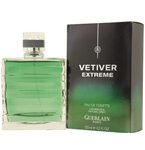 Vetiver is a raw material that has been used in perfumery since the very beginning of time. It is favored for both its grassy greenness and its very earthy roots.
Vetiver Extreme
is the intense version of one of Guerlain's oldest and most loved men's fragrances.
For those unsure of what the ingredient vetiver actually smells like, let this be your yardstick against which all other vetiver scents should be measured! Vetiver Extreme, just as the name suggests, paints a potent perfumed portrait of this exceptional natural material.
This eau de toilette opens with a palette of sparkling citruses: lemon and bergamot, but beneath one can already recognize a dry, woody tendril of cedar and vetiver reaching up from below. A light prickle of pepper and some warm nutmeg offer a hint of depth, while frankincense; a husky resinous quality. But the vetiver is king here … both verdantly green, and deeply earthy, it is as if it had just been uprooted from the soil.
Vetiver Extreme is a unique fragrance in that it has all bases covered. From casual application, to office wear, to evening wear, this is one scent that is devoutly masculine, and will take you from basketball court to boardroom to bedroom with ease.