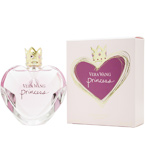 Vera Wang is a Chinese American fashion designer based in New York City who is known for her exquisite bridal gowns. I first fell in love with her exquisite style as a teenager when she was a fashion editor for Vogue in the early '80s. She has expanded her offerings to include fragrance, jewelry, eye wear, shoe and houseware collections. Vera Wang Princess perfume was created in 2006 and embodies all things playful and feminine.

In addition to its girly playfulness, Princess boasts a bit of an attitude. The pale lavender box sports a bold purple heart with stylized gold edging and a sparkly gold crown with purple gems around the edge.

As I opened the box, I was immediately struck by the heart-shaped, multi-faceted bottle inside that held a pale lavender colored fragrance. The gem cut back of the bottle gives it a certain softly regal look while the gold crown stopper (actually two removable, golden rings with lavender colored gems) made me feel like a little girl playing dress-up.

The Notes
The fragrance itself is a heady combination of fruity and floral notes. Top notes include water lily, apple, mandarin and apricot. Heart notes are guava, Tiare flower, tuberose, and dark chocolate. Base notes are vanilla, amber and wood. To me, the combination is a sort of fruity, baby powder scent that is really sexy in a soft, feminine way. It certainly isn't an oriental fragrance to me at all.

Ideal Wear
This is definitely a casual, day-time scent for the feminine woman or young lady. Given the fruity, powdery scent, I'd say it would work best on a younger woman or one who was very young at heart with a playful nature. Vera Wang Princess has great staying power, and I got a good six hours out of just a few spritzes of this fragrance on my wrists.

This is a wonderful, summery scent that reminds me of Pink Sugar perfume with a bit more youth and fun to it. Not something I would choose to wear to a professional function but definitely a fragrance that will stay with me during fun summer outings with the kids.