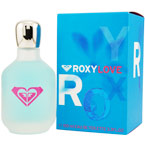 Where I live there is no surfing. There are mountains, and lots of them. My knowledge of the board-riding culture comes from movies like "Point Break" and "Blue Crush." I find everything about surfing totally rad -- even though I have never tried it -- the beach, the waves, the tan, the sun-bleached hair, the fashion. I'm craving a little of that today, and because I can't go to the beach I thought I'd bring the beach to me -- with a spritz of
Roxy Love
.
Roxy Love
is not a new fragrance; it was introduced in 2008 by
Quicksilver
, a premier surf brand. It is most definitely a youthful scent, fresh and citrusy. For the most part it's pretty linear; it opens with a blast of green tea and citrus before drying down into a very light musk. There are splashes of freesia and mandarin throughout. Girls love it because of its Caribbean-blue hue, and because it's Roxy, of course. It is a breath of fresh air and perfect for surfer girls.
Notes include green tea, citron vert, yuzu, mandarin, peony, orchid and freesia.