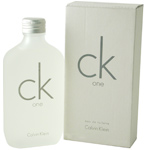 Most people, at some time or another, have been introduced to CK One … Calvin Klein's best-selling fragrance chock full of universal appeal. Few scents have managed to unite the sexes in the same way CK One does.

Introduced in 1994, CK One remains at the top of its class. Its masterful composition transcends age and gender; it is celebrated the world over as a scent to be shared between the sexes. One scent for One race … that is, the human race.

CK One explores olfactory androgyny, and started a unisex trend in perfumery in the mid-90s that we're still seeing today. With notes that run the gamut from pineapple to papaya and violet to sandalwood, CK One is revered by men and women alike.

It has a fresh aquatic quality that's as bracing as an arctic breeze, yet it's as sunny and exciting as a sultry spring fling! Its energizing citrus opening dries down to a wonderful aromatic woody/musky base, and it radiates a general sense of vitality and well being.

CK One is a great "go-to" scent and can be worn anywhere, anytime. It is also available in a generous 6.7 oz. flacon which will allow you (and your partner, of course) the opportunity to spritz and splash with mad abandon. An essential.