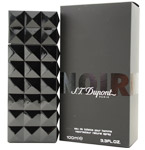 S.T. Dupont is perhaps best known for its luxury metallic lighters and high-end writing instruments, but few are aware that this brand has a vast heritage that spans more than 100 years! In 2006 S.T. Dupont launched the bold and commanding masculine scent Noir.

Noir is presented in a beautifully faceted obsidian-black bottle which is a delight to hold and looks a million bucks in any bathroom or on any dresser.

The fragrance itself is a scent full of contrasts - it opens with a wonderfully cooling jet of mint and soft lavender… a combination that suggests this EDT is anything but "black"; until it takes a dramatic turn towards a spicy, warm heart of cardamom, mace, clove and precious woods. There is a lingering base of earthy vetiver and musky cashmeran. Noir warms incredibly well on the skin, and this blend will imbue the air around you with a resolutely masculine aura.

S.T. Dupont Noir is an excellent scent for office wear, evening wear or for semi-formal occasions. Its robust composition is both empowering and sexy and it boasts above-average persistence on the skin. If it's an understated fragrance gem you're seeking that will deliver on impact and value for money, then look no further than Noir.