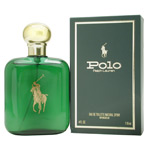 Ralph Lauren, the brand, was launched in 1967 by Ralph Lauren. A year later, Ralph Lauren began to offer a line of men's ties that soon evolved into an upscale boutique in Manhattan. Ralph Lauren began offering fragrances and body care items for both men and women in 1978. The classic fragrance Polo by Ralph Lauren was first introduced in 1978 as an eau de toilette spray for men.

Ralph Lauren Polo is known for its active, sporty style, and this eau de toilette spray is the perfect match. The dark forest green box features the classic Ralph Lauren symbol in gold of a man on horseback with a polo stick. The dark green glass bottle itself also features the gold emblem and is topped with a round gold stopper. The entire presentation has a masculine, outdoorsy feel to it.

Ralph Lauren Polo has notes of leather, wood, tobacco, basil and oak moss. This is definitely a very masculine fragrance and is one of my favorites. You really can pick up the very subtle scents of pine in this fragrance which lends itself well to casual day time wear.

Ralph Lauren Polo is a classic fragrance, and there is a good reason it's been around for 30 years. It's the one masculine fragrance I can pick out the moment I walk into a room. I find Polo to be the sexiest fragrance for men that I've come across. You don't need to apply a lot of this eau de toilette spray to make a lasting impression. You really only need a few drops and it truly has an amazing amount of staying power.

I can tell when my husband is wearing Ralph Lauren Polo a good eight to 10 hours after he has first applied it. This is definitely one of the sexiest male fragrances I know of. If you're looking to impress a woman or get her attention, a spritz of this fragrance will definitely do it. Even better, combine the Ralph Lauren Polo eau de toilette spray with the after shave and you'll be set for the entire day.