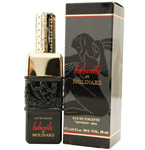 Created in 1924 by the house of Molinard, Habanita was originally intended to perfume cigarettes -- not skin! Molinard created this scent to be dabbed along the side of an unlit cigarette so that when smoked, it would release a lasting and enduring aroma. Somewhere along its timeline, however, it seems it was dabbed on wrists and necks too.

Habanita is a glorious perfume for women that embraces the opulent Art Deco age. Originally presented in an exquisite Lalique flacon, Habanita has aged with grace and has a lot to offer discerning perfumistas more than 90 years later.

It opens with bitter, green notes and succulent peaches, but soon shifts course and becomes lighter with rich, dry woods and stunning spices. A luxurious heart of leather and husky florals emerges over a foundation of warm amber, creamy vanilla and earthy patchouli. There is also an intriguing smokiness that calls to mind the aroma of tobacco and fragrant lit cigars.

This perfume is ideal for (but not limited to) the cooler weather. It has a unique presence and leaves a tantalizing trail. Multi-layered and mysterious, Habanita is an elegant, mature perfume that, if she were a woman, might have stepped from the pages of a gripping war-time spy novel.