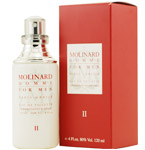 In 2009, the celebrated French perfume house Molinard celebrated 160 years of perfume production, and it remains to this day France's oldest entirely family-run business. With hundreds of scents to their credit, Molinard Homme II is a standout masculine fragrance that is proof positive of Molinard's vast and enduring heritage.

Part of a trio of men's Molinard releases, Pour Homme II is a sensual woody fragrance that evokes a feeling of immediate presence; it is bold, polished and assertive.

A delicate blend of juniper, Brazilian orange and Sicilian bergamot provide an aromatic/citrus opening before a heart of warm cedar and bourbon vanilla shifts to the fore. While the citruses are ever-present, there is a dry masculine huskiness at hand, thanks in part to a masterful blend of vetiver, patchouli and a "dry hay" note.

If one could liken Molinard Pour Homme II to another men's fragrance, it would likely be Yves Saint Laurent's Kouros or Gaultier's Fleur du Male … both of which also enjoy citrus facets and a similar dryness at their hearts. This scent would be ideal for work, or formal and semi-formal occasions.

With this eau de toilette, exceptionally good value for money can be found. Pour Homme II is a well-kept secret … a scented weapon found in the fragrance arsenal of many a Frenchman! Ooh-la-la!