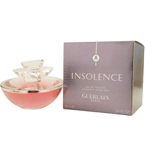 With one of the world's richest histories in perfumery to draw upon, Guerlain continues to grow from strength-wise well over 180 years after it first emerged in the French capital. In 2006, Guerlain launched Insolence perfume, a female fragrance that embodies the time-honored sophistication for which this design house is revered.

Many Guerlain perfumes inspire moments of reflection and remembrance and Insolence is no different. A delicate posy of florals including violet, rose, orange blossom and iris all evoke nostalgic memories of years gone by.

But Insolence is not all about prettiness and pondering … at her burning heart she conceals a vermillion core of passionate raspberry and dewy red fruit pulp; accords that are ripe and ooze with carnal appeal. Below her many ruched layers lies a salacious base of creamy tonka bean, sandalwood and musk. Just as her name might suggest, Insolence not only displays characteristics that are both sweet and chaste, but also those that are brazen and sassy.

Insolence is ideal for women who love the antiquated feel of L'Heure Bleue or Apres L'Ondée, but wish to remain firmly in the here and now. Insolence perfume lasts well on the skin for hours, and will leave those behind you cloaked in your unforgettable perfumed wake.