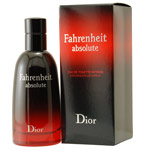 For many men who grew up in the late 1980s and early '90s, Christian Dior's Fahrenheit was a staple in one's fragrance wardrobe. Its unique blend of notes, including a resolutely masculine petroleum accord, helped it rocket to the top of the popularity polls.

As a direct result of its success -- one of Dior's best-selling men's scents to date -- in 2009 Dior created a no-holds-barred brand new interpretation of the old classic: Fahrenheit Absolute.

The opening spritz now includes a punch-in-the-face blast of oud; a slightly complex pungent aroma that has been likened to the smell of barnyard stalls, but indeed one that is loved the world over and has been used in perfumery for centuries.

There is a definite red-thread that ties Absolute to the original Dior release, but Absolute emerges in a class of its own. Heart notes of soft violet and curls of smoky incense do well to diminish the strength of the robust petroleum facet, and a resinous base of myrrh furnishes this eau de toilette with a rich ambery foundation.

At times this sexy and mysterious fragrance takes on a dark chocolatey character, but one that is not at all saccharine in nature. Rather than create a stronger version of Fahrenheit as the new name suggests, Fahrenheit Absolute has embraced the deeper, dusky shadows of the original.

This scent is perfect for any man looking for a scent that will captivate and compel. Classy and alluring, this EDT is a great one for romantic evenings out.